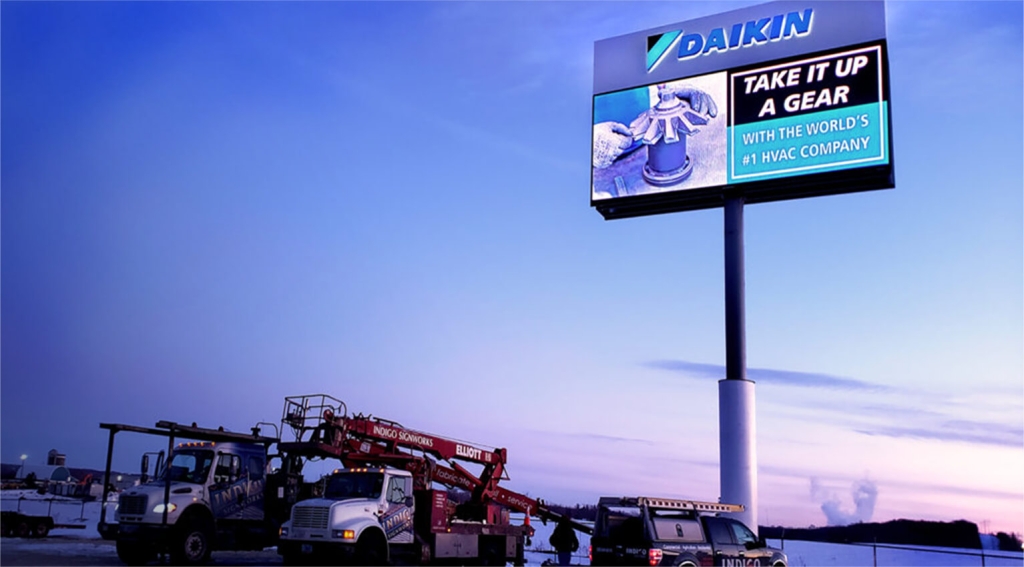 Daikin Applied Americas in Faribault, MN
Daikin Applied Americas welcomed the completion of their new pylon sign along I35-W just north of Faribault, Minnesota. Partnering with Indigo Signworks, the double-sided LED illuminated cabinet and 12' high x 30'5" wide Daktronics GS6-15.85 mm EMCs was completed on February 7, 2020. The pylon sign stands a proud 55 feet in the air and is easily visible for miles from the interstate and roadways surrounding the Daikin Applied Americas site located at 15620 Acorn Trail.
Beginning with an onsite meeting on May 1, 2019, to discuss Daikin's signage needs at their new property, which was formerly a Malt-o-Meal warehouse, Indigo Signs' sales team and designers set out to create premier signage that not only met the Daikin Applied brand standards, but enabled them to showcase the products and superior reputation of Daikin Applied Americas.
A crane test was completed on August 1, 2019, for the Daikin executives and engineers along with the Indigo Signs sales and installation crew to establish the ideal height, size and location for the pylon sign. Hydrovac excavation began in late January, digging to an engineer-certified depth of 21 feet. The 3-stage steel poles were erected the following week which then enabled Indigo Signs to install the EMCs and upper cabinet. With pretesting of the signage on the ground before they were installed, additional tests were conducted on February 6th in preparation for the final completion and walk-through with the Daikin North American Director of Facilities, Channel Marketing Specialist and Maintenance & Facilities Engineer the following day.
Overall, the project was a huge success and Indigo Signworks' image experts met the dreams, desires and deadline Daikin Applied Americas had established!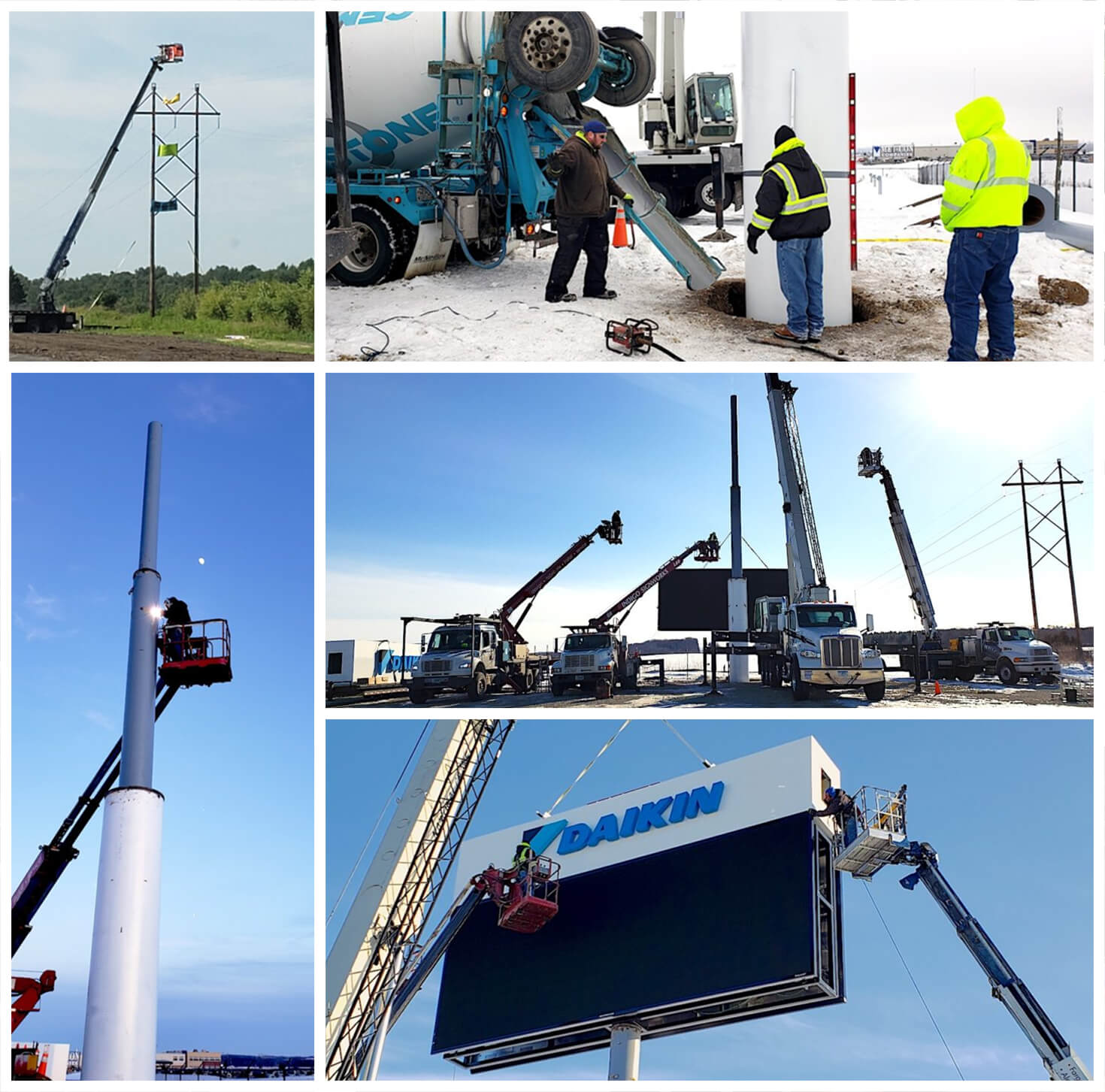 ​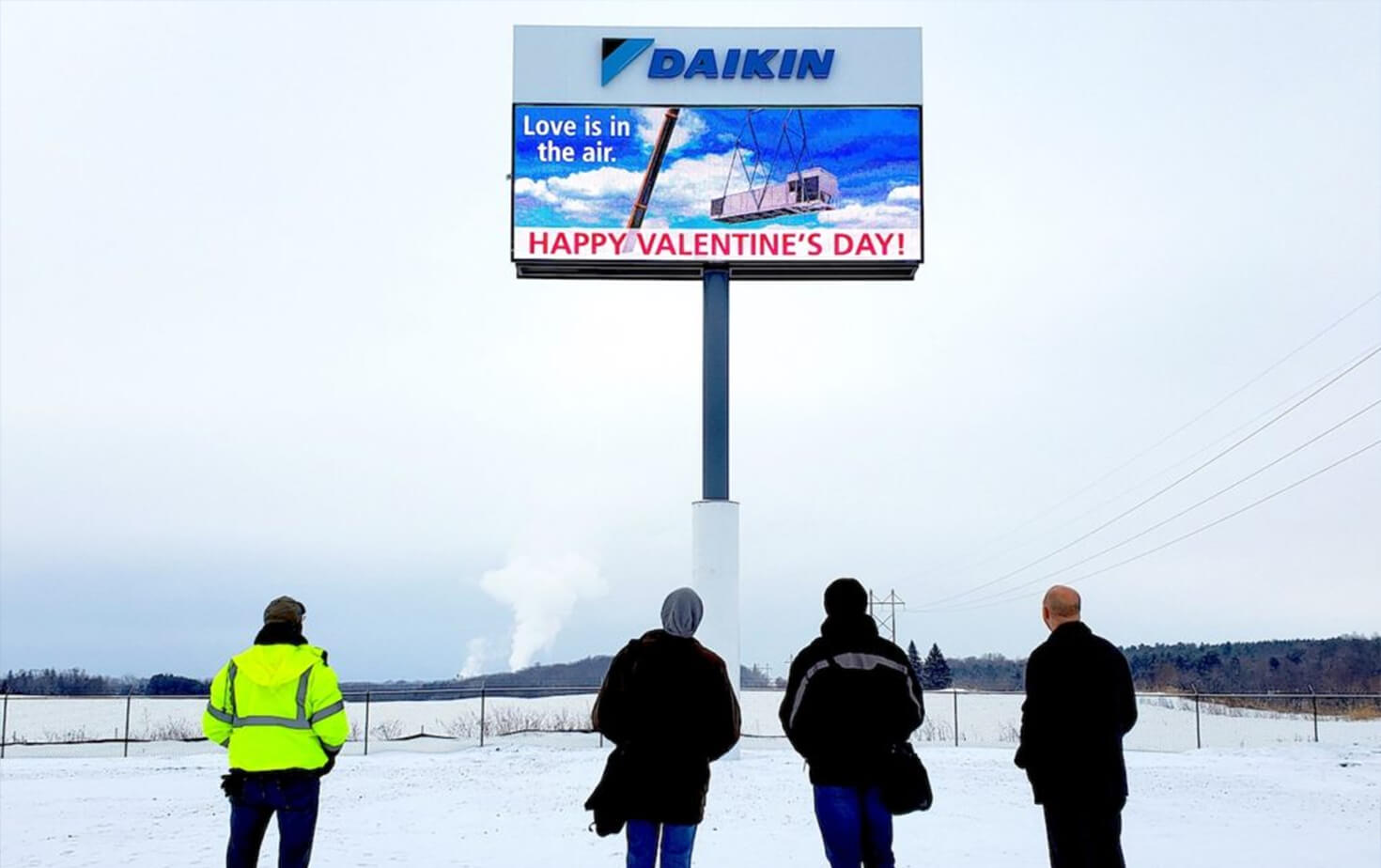 ​