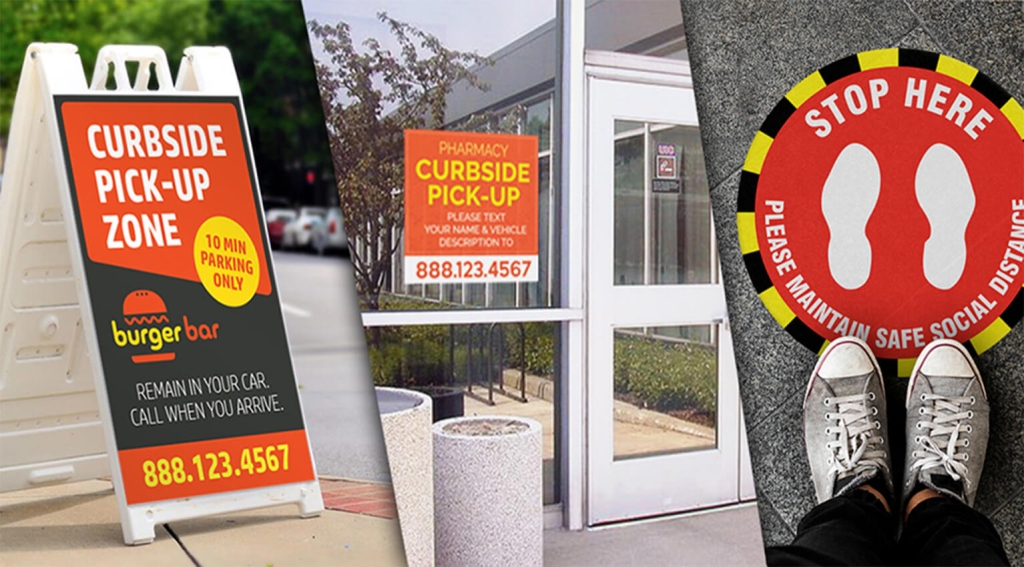 Well-designed signs have a special place in our hearts because of the impact they have on our daily lives. A well-placed sign can help your clients understand your business hours and policies or can give simple directions.
In light of COVID-19, it is likely that your business communication needs to redirect your clients in a number of ways. From directions to a newly utilized entrance to signs indicating changes of hours or services to signs indicating newly adopted health standards, we are here to create the image you need that will get your business and your clients through the current pandemic.
A-FRAME SIGNS: $165 EACH*
If your business has services that will positively impact your clients during coronavirus, you should do everything that you can to get this message across. Use your signage to promote services that your customers can utilize while adhering to social distancing rules. These could include services such as online ordering, curbside delivery, contact-free service, or virtual support.
By promoting these parts of your business, not only will you be helping your customers, you could be pivoting your operations in a direction that will keep your business on an upward trajectory throughout this crisis.
Exterior grade Sinicade A-Frame signs are double sided to showcase your information in the 23"w x 36"h graphic area.
WINDOW DECALS: 2 or more $50 EACH | Qty 1 $75*
Some businesses are being asked to change their policies and hours. It is important that you keep your customers informed about what they can expect. This added convenience will help your clients stay loyal to your business during an otherwise trying time for them.
You might be considering lessening the number of clients you can take at a time or reducing some services temporarily in favor of essential services. Perhaps you are a restaurant, trying to continue operations by making the shift from dine-in to take out services.
Our window decals are printed on an adhesive-back material that sticks to any non-porous flat surface that is easy to install, repositionable and provides a clean release.
FLOOR DECALS: $21 EACH*
As your business struggles to give clear directions to clients about how far away to stand from one another, or from your staff, consider floor decals. A well-designed floor detail can indicate everything you need to without the need to rearrange the interior of your business.
Our floor decals are printed with a clear over-laminate classified under UL 410 for floor graphics overlay applications with a slight texture to provide both a protective overlay and slip-resistance. These removable floor decals will adhere well to most smooth interior surfaces.
* Base price with customer supplied artwork. Design and shipping are available for an additional charge if required.
We know that this is a time of uncertainty. Indigo Signs cares about you and we are here to support you in whatever way we can. Whether you need long-term signage or quick, disposable signage to help you weather this crisis, we are here to support you. Because we do all our printing in house, we are able to respond to your needs quickly with a 1-2 business day turnaround. Regardless of your budget, we will do our all to find a solution that works for you.