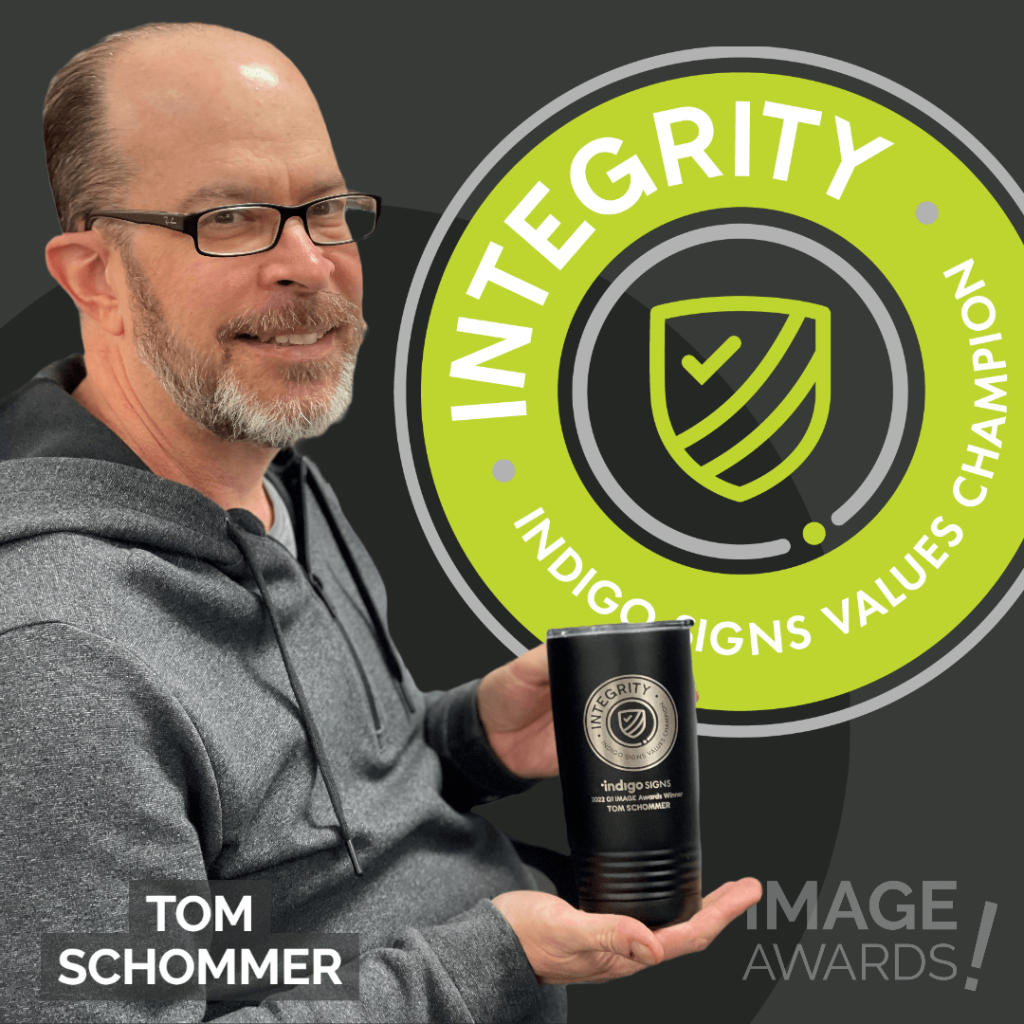 The first-ever of our IMAGE Awards went to an employee nominated for the first of our core values:
INTEGRITY: We are a company that leads by doing the right thing consistently.
None of us are born with integrity, nor can we obtain integrity with a few well-placed words or actions. Integrity is the never-ending pursuit of honesty. To borrow a well-known phrase, integrity is doing the right thing, even when no one is looking. It's is making the right decision, following the just path, and leading in the manner you would like to be led. It is about quality and purity of character. Integrity doesn't need to be defended, rationalized, or justified; it is readily evident with all the inherent goodness baked right in.
Nomination submission from a fellow Indigo Signs peer: "This person always provides superior support to the sales team and the end client. They have recently recognized the stress the sales team is experiencing due to the transition to a new ERP. This person is coaching the team and being extremely patient with them as they learn the system. They take time to make sure the info in and info out is correct and check up on the production process to ensure quality (and stress the importance of quality work.) They take pride in their work, put in excess hours, and truly care about the team and our customers. They deserve to be recognized for their dedication and commitment to Indigo Signs."
The person they were speaking of is Tom Schommer. Tom is one of our Designers in our Chanhassen, MN office and has been with Indigo Signs (and previously Sign Source) for 28 years! After receiving his award, we asked him to explain why he chooses to lead with integrity:
"Everything I do at work stems from trying to hold myself to a high level of craftsmanship, and I don't take shortcuts or kick the can down the road. A conceptual drawing done early in an order process should have the same level of quality and accuracy as a file set up for production. I'm always cognizant that a shape that I draw on my computer today could eventually be used by our laser or router next week or six months down the road. Though this applies mainly to design work, I'm sure that subconsciously I apply it to other facets of the process to help others accurately do their jobs."
Congratulations to Tom for winning the Integrity IMAGE Award for Q1 2022!